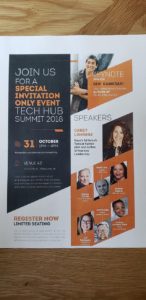 Kevin Scholz, Tina Rock Scholz, Mario Cortez of Advanced Hires was honored to have had an exclusive special invitation extended to us to attend Milwaukee's Tech Hub 2018 Summit. Several hundred IT professionals and influential Tech leaders were in attendance.
There are 76,000 tech workers currently in the Milwaukee area. Another 31,000 Tech openings are expected over the next five years in this area. In South/East Wisconsin, the economic impact from tech industries is $27.6 BILLION! CEO's number one concern is not finding the talent that is needed.
It is critical to get a STRONG partnership going with a recruiting firm that specializes in IT placements in the Milwaukee area. Advanced Hires is in high demand and that demand is only increasing. We do not hunt for business using the traditional sales model used by most recruiting firms. Business comes to us. Our recruiting bandwidth is aimed at those clients who are responsive and engaged.
Advanced Hires can turn your short-term, mid-term, and long-term hiring plan to your hiring the best Tech talent in the area. You need to start now and get a jump on the demand before it becomes even more difficult to find the best Tech talent. Advanced Hires remains highly connected and engaged with the outlets necessary to match-make a company's desired talent with actual talent.