Placing Next Level Talent for Today's Marketplace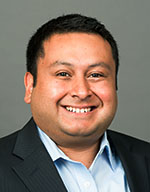 Mario Cortez
Mario Cortez has a unique blend of leadership experience in the IT industry that consists of Client Support, Field Operations, Technical Services, Project Management, and Business Transformation. Most recently, Mario was the Vice President of Client Services at VCPI where he served a large team of IT Service Management professionals who provide technical support to healthcare providers across the U.S. Mario is a graduate of Marquette University where he received his Bachelor of Science Degree in Leadership and Organizations with a concentration in Organizational Development. He also holds a certification in ITIL (IT Infrastructure Library), HDI Support Center, and Project Management from Milwaukee School of Engineering (MSOE).
Advanced Hires is proud to share the importance of community commitment with Mario as well. Mario is very passionate about his involvement in our local community. Mario sits on the IT Computer Support Advisory Board for MATC and is also an active volunteer with IT United, Hunger Task Force, and Our Next Generation. Mario has also served on advisory boards with Marquette University and the Wisconsin Pathways Network.
Mario's journey: "My journey in IT dates back to 1999 when I joined a startup technology group in Milwaukee, WI, assisting with their rapid growth in the EFT industry. This launched my career in Information Technology which led me to working with numerous small-Fortune 500 companies in several leadership-level roles throughout my career. It was in my most recent position as Vice President of Client Support Services with VCPI (a local IT services firm focused on providing technology solutions to the long-term and post-acute care industry), where I was reminded of my true passion in life which is helping people while also helping companies transform to meet many of the new and changing market demands. This shared passion for thought leadership, community outreach and organizational development is what brought me to this very talented team here at Advanced Hires" (Mario Cortez). 
Mario made a huge impact on our company
"To say that Mario made a huge impact on our company would be the understatement of the century."
2018-03-19T13:15:13-06:00
Shawn Mueller
IT Operations Engineer at VCPI
"To say that Mario made a huge impact on our company would be the understatement of the century."
https://advancedhires.com/testimonials/mario-made-a-huge-impact-on-our-company/
The best I have ever seen
"Mario's ability to quickly make sound, metric driven business decisions and implement new ideas are amongst the best I have ever seen."
2018-03-19T13:19:29-06:00
Dan Weise
Leader, Concurrency, Inc.
"Mario's ability to quickly make sound, metric driven business decisions and implement new ideas are amongst the best I have ever seen."
https://advancedhires.com/testimonials/the-best-i-have-ever-seen/
Very high standards of professionalism
"Mario maintained a sense of humor and approachability that was much appreciated by his staff and colleagues, without ever losing sight of the very high standards of professionalism he maintained."
2018-03-19T13:22:52-06:00
Jennifer Newmark 
Supervising Associate and Messaging Migration Specialist, EY| Ernst & Young LLP
"Mario maintained a sense of humor and approachability that was much appreciated by his staff and colleagues, without ever losing sight of the very high standards of professionalism he maintained."
https://advancedhires.com/testimonials/very-high-standards-of-professionalism/
Highly professional and focused on business objectives
"Mario is highly professional and focused on business objectives and the bottom line, but has the additional soft skills required to build trust with his teams, clients and customers through frequent and effective collaboration."
2018-03-19T13:31:08-06:00
Suzanne Barthelemy-Stange
Project Manager, HSA Bank
"Mario is highly professional and focused on business objectives and the bottom line, but has the additional soft skills required to build trust with his teams, clients and customers through frequent and effective collaboration."
https://advancedhires.com/testimonials/highly-professional-and-focused-on-business-objectives/
Dedicated, driven and knowledgeable
"To say that Mario is a dedicated, driven and knowledgeable Manager is an understatement."
2018-03-19T13:33:32-06:00
Curt Klotz
GIS Cutover/Migration/Hypercare Lead, Harley-Davidson Motor Company
"To say that Mario is a dedicated, driven and knowledgeable Manager is an understatement."
https://advancedhires.com/testimonials/dedicated-driven-and-knowledgeable/
A sense of urgency that drove solutions that were win/win and efficient
"Mario had the ability to work through complex issues, both technical and political, with a sense of urgency that drove solutions that were win/win and efficient."
2018-03-19T13:35:05-06:00
Mikey McPhail
Director of Business Intelligence, ManPower Group Solutions
"Mario had the ability to work through complex issues, both technical and political, with a sense of urgency that drove solutions that were win/win and efficient."
https://advancedhires.com/testimonials/a-sense-of-urgency-that-drove-solutions-that-were-win-win-and-efficient/
Goes above and beyond
"Mario doesn't hesitate to assist and goes above and beyond to ensure resolution is met"
2018-03-19T13:38:50-06:00
LaKenya Cain
Manager - Knowledge and Major Incident Management, Tata Consultancy Services
"Mario doesn't hesitate to assist and goes above and beyond to ensure resolution is met"
https://advancedhires.com/testimonials/goes-above-and-beyond/
Contact Us Today to Begin
310 E. Buffalo St. Suite 112 | Milwaukee, WI 53202